The new Ortlieb Dry Duffel Waterproof 110 Liters XLarge Yellow, $195, is the highest quality bag of this type you can purchase, period. The German blended pvc of the Ortlieb's could easily be used to build inflatable touring kayaks. Not only does it have a tough 1000 denier polyester base, but the acrylic finish exterior is hard and abrasion resistant. This listing is for the 110 liter (roughly the same volume as our 3.8 cubic foot Riverpack drybag) XL drybag Duffel, which measures 28.5″ long, 17″ wide, and 14.5″ tall. These are our measurements, and the ones in Ortlieb's catalog for this size are misprints as they show it being smaller than the 85l Duffle. The XL weighs 3-1/2 pounds.
Ortlieb Dry Duffel Waterproof 110 Liters XLarge Yellow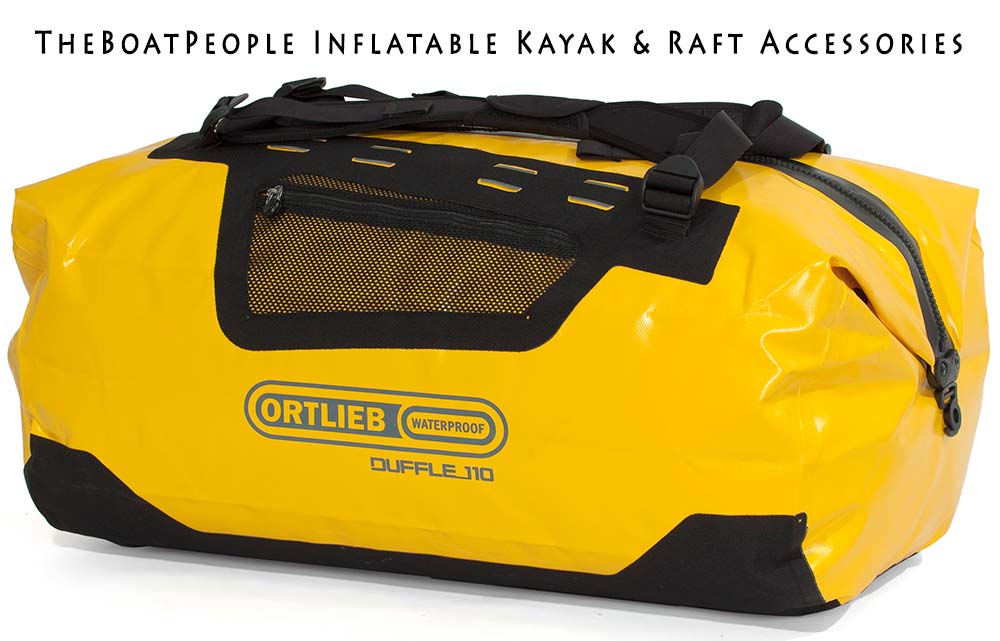 All three sizes of the Expedition Dry Duffles feature a completely watertight drysuit zipper, two inside pockets for small items or dirty riverwear, one outside zippered mesh pocket, a strip of daisychains on each side of the zipper that cam straps can pass through, pegs on the ends if you want to stand your bag on a flat floor, removable contoured carry straps that can double as shoulder straps, cordura reinforced corners and bottoms, and an internal compression strap that can make closing the zipper easier if the bag is fully loaded. There is also a ladderlock piece of hardware at each end of the zipper that a camlock strap will pass though. Between these, the daisychain patches, and the handle webbing, there is no shortage of ways to tie this bag ultra-securely into your river boat. The only negative thing we could say about the Ortlieb Duffles is that the combo shoulder/carry straps are not well padded for backpacking.

110 Liter SHIPPING WEIGHT = 6 pounds
Ortlieb Dry Duffel Features' Image Gallery


We stock this size and the 60 liter "Medium" in yellow with black trim. Although there is no reason that this bag should come out of a boat considering the myriad of tie-down points, if it should, the school bus yellow is easy to spot. For some of you this size may be larger than you need, so measure out your gear pile that you would normally take dowriver before ordering.