This Ortlieb Dry Rack Pack Large Gray K63h1, $95, is another duffel style drybag, but rather than having a dry-zipper like the larger Ortlieb duffles or the TravelZip, this one incorporates a secure roll-down closure on top. In a flip, if you do a good job on the roll and have the bag fairly full, these RackPacks are nearly as watertight as the drysuit zipper equipped bags. We carried this bag a while back when we were in our San Jose location, and since we get a lot of call for higher end duffle drybags we thought we would bring it back into the line-up.
Ortlieb Dry Rack Pack Large Gray K63h1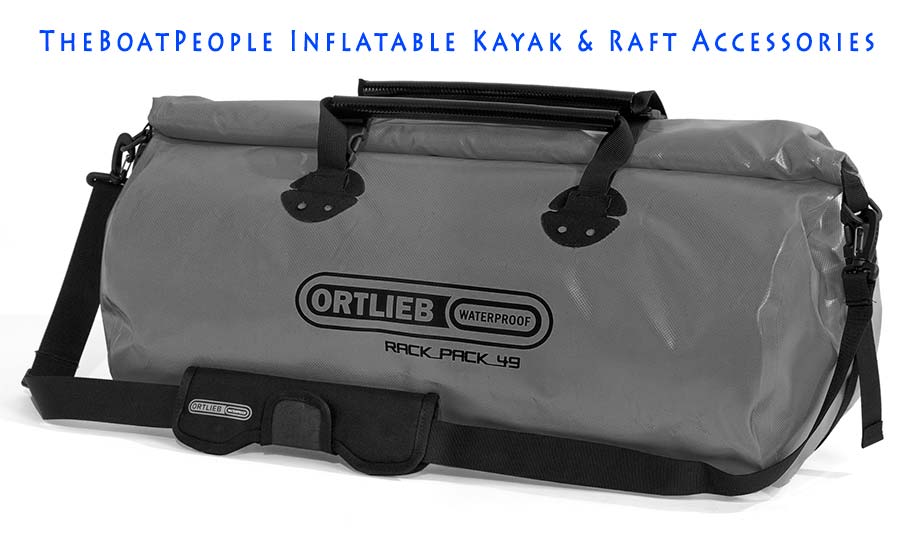 This size is what Ortlieb calls the "large" but we also carry the XL, which is their biggest Rack-pack. That one is listed separately in this section of our site.




The large Rack-pack measures about 12″ wide, 11″ tall, two feet long, and weighs 2 pounds. Like our other Ortlieb duffles it has a removable shoulder strap and regular lift handles. Attachments are via 1″ fastex buckles. There are D-rings on the two ends that can be used for securing it into your boat, though they are not as heavy duty as the ones found on the more expensive TravelZip. In whitewater you would want to run one cam strap under the handles to be safe.