It has been a while since we had any Ortlieb products, but last year they came out with a number of drysuit-zipper equipped duffle bags. The quality is unbeatable as are the materials. This German made line incorporates a ton of nice features. This listing is for Ortlieb Travel-Zip Duffel Waterproof Medium 50 Liters, $165, which is actually the larger of the two that they make. It has a removable padded shoulder strap, a 100% waterproof TiZip zipper, carry handles, an inner pocket, and two outer mesh pockets. Between the handles and the shoulder strap attachment D-rings, this can easily be secured into a raft or inflatable kayak, and at 23″ long it's a great size. The cross section is roughly triangular in shape, about 13″ X 12″ high. Our scale says it weighs 2 pounds, nine ounces, but somehow it feels lighter than that.
Ortlieb Travel-Zip Duffel Waterproof Medium 50 Liters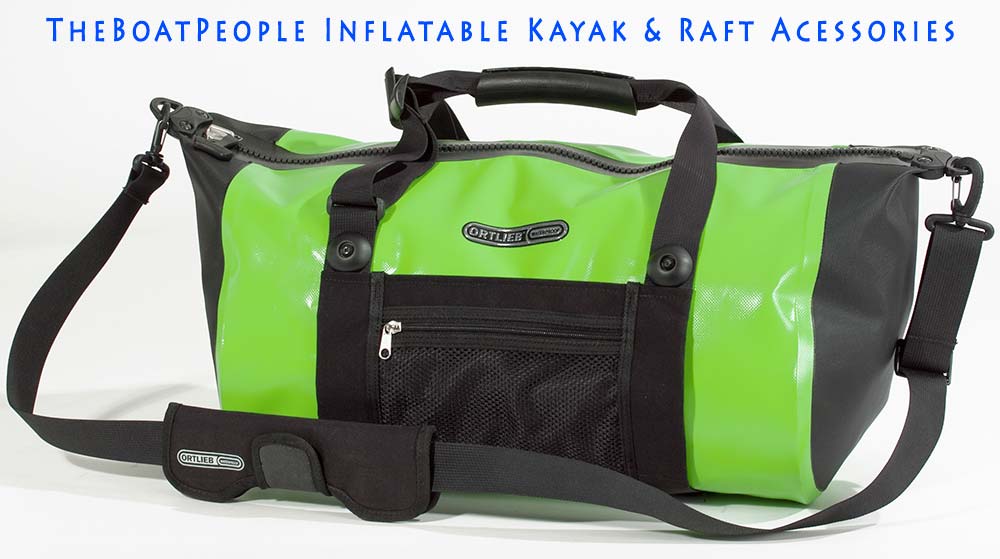 The pvc fabric is not overly thick in terms of the amount of coating it has, but the surface finish is hard & shiny with a very high level of abrasion resistance. This is not low-end Asian pvc, but rather top grade blended German fabric, and the handle and (shoulder strap) D-ring attachment hardware is well above the quality of any other brand of drybag. We are carrying this in a bright lime color, which ensures that even if it should come loose from your boat, you won't have any trouble spotting it floating down the river!



These are shipped with the shoulder strap tucked inside the bag, in case you think it's missing. This is the smallest (about 80% of the 60 Liter standard Ortlieb Duffle) of the four duffle style Ortlieb bags we handle, although it also has different features than the three bigger sizes.